Root Canal Therapy
Root canal therapy is a dental procedure that concerns treatment of decaying pulp. Located inside the root canal is pulp which is important for the nourishment of the tooth. Either in the event of tooth breakage or an injury to the root, the pulp gets infected. Decaying pulp is a danger to the health of the tooth as it weakens it from the inside, causing swelling and pain around the tooth. Even a sensitive touch and intake of cold or hot liquids can cause discomfort.
The root canal therapy involves removal of this decaying pulp and replacing it with a filling to prevent any more damage. Gold alloy is considered to be one of the most stable and strongest components as a filling. These fillings are permanent and increase the strength of the tooth. In case the treatment of the infection is delayed, one might have to replace the tooth itself, along with the root.
Restoration done through root canal therapy can last for many years if performed in an impeccable manner and is rendered good care. We carry out every procedure in the most hygienic and sound manner so that the chances of relapse of the treatment are nil. Satisfaction of our patients has been our aim always and we continue to work towards achieving it everyday.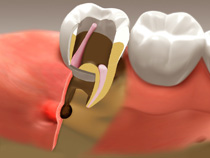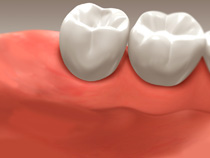 During the procedure, a gap is drilled into the tooth's crown and pulp chamber, diseased pulp is reshaped or removed, and the tooth is permanently sealed with a gold, porcelain, or tooth-colored inlay/onlay or crown.