Amalgam-free dentistry Houston
Dental Designers is a place where building beautiful smiles is a part of our daily routine. We do that not only through dental work but we try to give our patients utmost satisfaction and comfort, by assuring them that they are in secure hands.
Our practice, in Houston, Tx. is free from anything and everything that can harm our patients' health. Dental procedures like fillings, root canal, crowns and veneers are done using the most compatible and safe components. All the procedures that take place at Dental designers are Amalgam free in Houston and do not cause any threat to the patients' health.
Amalgam has been the most used component for fillings apart from gold alloy. Now it is being replaced by much safer and much more advanced components, offering greater flexibility and durability. The best service providers around the world have turned their practice amalgam free and we carry the same promise of maintaining the highest standards.
At all the stages of restorative dentistry, we, at Dental Designers, use the safest methods; the most advanced instruments and ensure a hygienic environment for flawless completion of dental operations. Our restorative procedures will help you to get rid of those old, outdated fillings and give your teeth a new and improved look.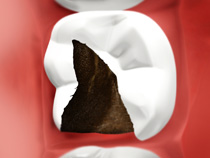 Please contact our office, in Houston, Tx. Today for amalgam free fillings!
Contact Us: