Dental Restoration Specialists Houston
Reconstructing Teeth | Replacing Missing Teeth - Restore Teeth With Full Mouth Restorations - Houston
Multiple tooth injuries or prolonging infection leading to pervasive damage to gums and teeth requires radical methods to restore the perfect health of the mouth. A full mouth restoration in Houston is for those who either, due to a severe injury, old age or congenital dental defects have imbalanced or damaged teeth.
Improper dental conditions often hamper simple day to day routines like speaking clearly and chewing food. Non-aligned or missing teeth not only affect health but aesthetic appearance is affected in equal measures too. Hesitation to interact in social situations is a common factor amongst people with unhealthy teeth.
If teeth are not properly aligned, every bite causes further damage and aggravates the condition, resulting in pain in the jaw, tooth breakage and even migraines. But desperation to change this situation should not mean making irrational decisions. Contact a quality dentist who has been in practice for some time and has earned the trust of his patients - We are referring you to our Dental Designers office, located in Houston Tx.
Full mouth restoration is the ultimate dental procedure and involves a lot of expertise. Only a dentist who specializes in all the major dental treatments like implants, bridges, periodontal treatments, crowns and veneers will be able to perform such an extensive job efficiently. At Dental Designers, we are equipped with the state-of-the-art equipments so that our patients get the best possible dental care.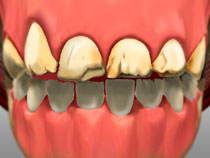 Contact Us: